Jobs
Audubon Community Nature Center is always on to lookout for talented individuals to join the team. See below for current and annual positions.
If you're interested in applying for a position, please call us at (716) 569-2345 or email us at info@auduboncnc.org
Current Openings
Summer Nature Education Internship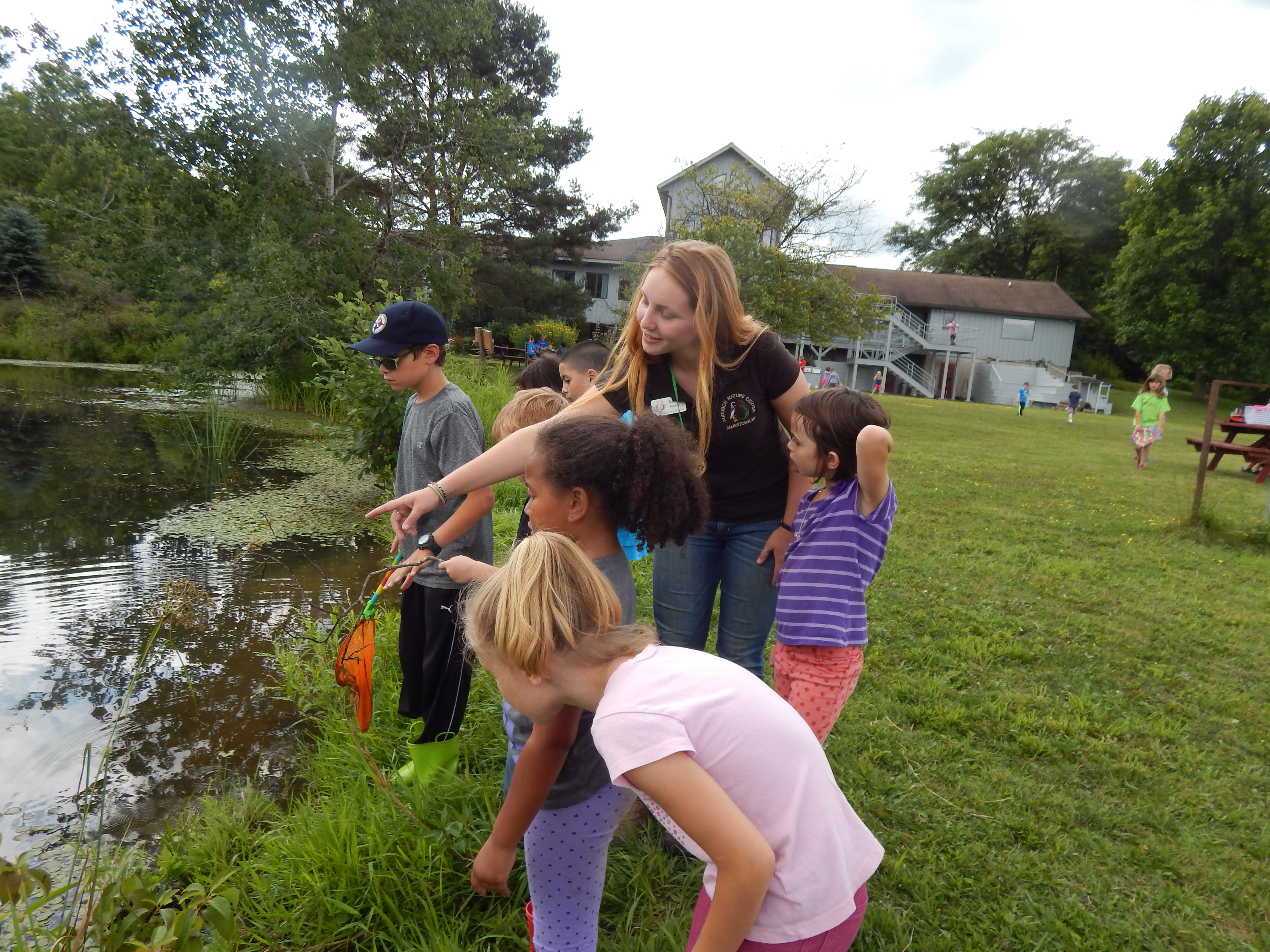 Position:
Nature Education Internship, paid, hourly.
New York State minimum wage, no benefits.
Applications Accepted: January 1 – March 1
Start Date: Mid-May (more details below)
Duration: Typically through mid-August
General Description:
Lead Discovery Walks; serve as camp counselor through the summer; assist with caring for our educational live animals; attend walks and classes led by naturalists and volunteers for professional development (often includes bird-banding, wildflower identification, bird-house monitoring, citizen science projects, and more); assist with daily operations of the nature center (including recycling, compost, cleaning, and maintenance). If time allows assist with weekend programming including classes, birthday parties and rentals.
Qualifications:
At least 18 years of age
Interest in, comfort in, and knowledge of the natural world
Experience working with children
Must be in good physical condition, able to navigate up to 3 miles a day on rough terrain in variable weather conditions
Preferences:
Enthusiasm for learning and sharing
Familiarity with Audubon Community Nature Center
Are planning to enter an environmental field or those who hope to teach environmental and/or science topics or elementary age students
Details:
Wage:
New York State minimum wage, no benefits.

May through August:
(exact start and end dates are somewhat negotiable).

30-40 hours/week, occasional weekends:
in May and June, 30 hours per week, usually Monday-Friday, 9:00 a.m. – 3:00 p.m. Once camp starts, a maximum of 40 hours per week, usually 8:00 a.m. – 4:00 p.m. Monday-Friday. Hours are flexible, as there are some weekend events. There may be some weeks when you are asked to work Saturday instead of Monday, for example.
School credit:
If you are applying for school credit, you must submit the internship requirements from your school with your application (number of hours/credit, if a project is required, if certain activities must be completed, etc.)
Discovery Walks:
In May and June ACNC offers guided walks to schools. Your job is to engage the students in meaningful learning activities along the way and to make sure you keep to a specified schedule. Training and observation is provided before you lead your first solo walk.
Summer day camp:
Starting in late June, 8 weeks of summer Day Camp begin. You assist and observe during the first week of camp, then lead your own groups for the remainder of the summer. Written outlines of each camp are provided, it is your job to fill out the subject matter with activities, lessons, and projects.
Intern Project:
Each year, our interns may choose projects from a list to complete. Past projects have involved the creation of displays, such as a "fishing pond", a frog song board, and raptor exhibit. Another was a self-guided nature trail and accompanying booklet. This is dependent on time available and not a requirement.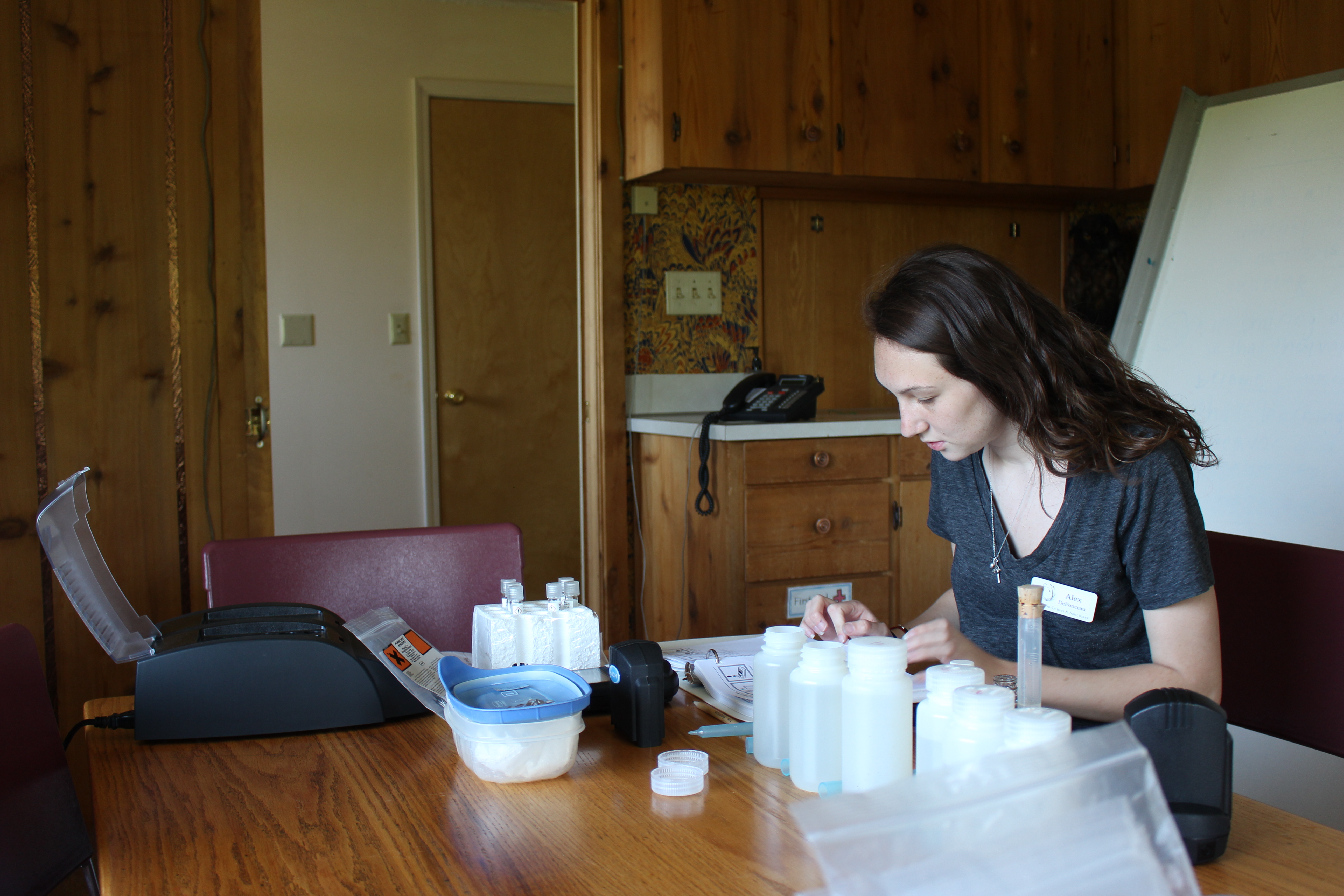 What does ACNC do for you?
You'll walk away from this internship with experience working with groups of children in Preschool through High School. ACNC provides learning opportunities in the form of a weekly hike with a naturalist, recommended reading materials, job-shadowing the various positions at a nature center, research projects such as bird banding, and off-site field trips.
You have the opportunity to develop lesson plans for week-long camp and participate in land management in the sanctuary. You'll gain experience working with a collection of reptiles and amphibians as part of the education animal collection and minimal training on the care and maintenance of a Bald Eagle.
Finally, ACNC hopes you walk away with a better understanding that environmental education is a way of life, not a field of interest. Through experience, knowledge and action, your work here will give you the tools to shape the future and its citizens.
To apply send a cover letter, resume, and three references to Sarah Hatfield, 1600 Riverside Road, Jamestown, NY  14701 or email to shatfield@auduboncnc.org.
Winter Seasonal Naturalist
Position:
Winter Seasonal Naturalist, paid, hourly.
Applications accepted: July 1 – September 1
Start Date: October 1 (more details below)
Duration: Typically through March
General Description:
The seasonal naturalist will teach classroom nature programs, work with naturalists to modify classroom teaching points and methods, help with festivals and events, and assist with teaching days at the center when school is not in session. Other tasks may include weekend programs, leading birthday parties and scout groups, website design and upkeep, brochure and poster design, and exhibit planning and design as skills and time allow.
Qualifications:
Bachelor's degree, or equivalent experience;
Experience teaching in an elementary classroom setting;
Experience in informal settings teaching children;
General natural history knowledge and comfort in the outdoors;
Familiar with office equipment, including copy machines, computers, scanners, and fax machines
Enthusiasm and the ability to be dynamic
Ability to work independently
Valid driver's license and own vehicle
Preferences:
Degree, or pursuit of a degree, in Education or the Natural sciences;
Aspirations to be a Nature Center Educator;
Experience using Microsoft Access;
Experience caring for live animals, especially reptiles and amphibians.
Audubon Community Nature Center
1600 Riverside Road
Jamestown, NY 14701

(716) 569-2345
info@auduboncnc.org
March - October
Monday - Saturday 10:00 a.m.-4:30 p.m.
Sunday 1:00 p.m.-4:30 p.m.
November - February
Sunday - Friday 1:00-4:30 p.m.
Saturday 10:00 a.m.-4:30 p.m.